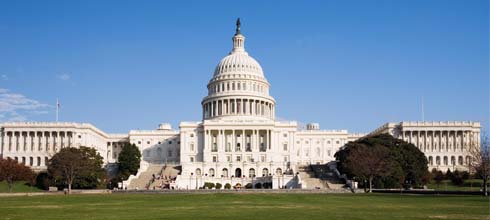 Government Affairs
ARTBA's seasoned team of government affairs experts present the transportation design and construction industry's views on a variety of transportation policy and regulatory issues.
seperator
Current Issues
This section contains information about ARTBA's top legislative and regulatory objectives for the year, and other key transportation development policy issues.
seperator
Grassroots Action Center
The Grassroots Action Center allows industry executives to get directly involved in the policymaking process with members of Congress and the White House. Remember, you vote, so they will listen!
seperator
Transportation Makes America Work
The Transportation Makes America Work (TMAW) campaign is the industry's only comprehensive communications advocacy and grassroots lobbying program aimed at building public and political support for increased federal surface transportation investments.
seperator
Coalitions
ARTBA works closely with industry coalitions to advance similar transportation development policy goals.
seperator
Policy Statements
ARTBA members have developed comprehensive policy statements, which are the foundation for ARTBA-specific proposals on issues such the surface transportation investment bills.
This section contains ARTBA policy statements on:
Airports
Environmental
Highways
Intelligent Transportation Systems
Ports & Waterways
Railroad/Transit
Roadway Safety
Research, Education & Training
seperator
Political Action Committee
ARTBA's Political Action Committee (PAC) works within the political process to further the goals of ARTBA and its members. The ARTBA-PAC supports only those officeholders and candidates for federal office who support strong federal transportation investment.