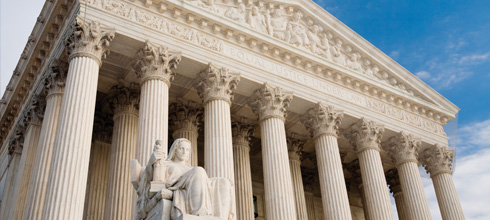 Legal
One of the most valuable and tangible benefits of ARTBA membership is found in the association's aggressive legal advocacy program.
From the halls of Congress to the halls of justice, ARTBA regularly takes action to defend transportation design and construction industry market interests when threatened by dubious regulation or litigation.
Since 1993, ARTBA has invested more than $1 million in environmental litigation on the industry's behalf. And the return on that investment?
ARTBA's legal advocacy has allowed nearly $50 billion in approved, yet challenged, U.S. transportation projects and plans to move forward.
Among ARTBA's most notable legal victories on the industry's behalf:
Preventing no-growth groups from using the Clean Air Act's transportation conformity process to delay or stop state and local highway projects.
Successfully challenging EPA and U.S. Army Corps of Engineers attempts to unlawfully expand federal wetlands jurisdiction. By limiting the jurisdiction of these agencies, ARTBA has helped to allow numerous construction projects to proceed without unnecessary federal intervention.
Obtaining the first-ever federal court decision in 2000 which prevented the Sierra Club and its allies from challenging a regional transportation plan under the "citizen's suit" provision of the Clean Air Act. The provision had been used routinely to file cases blocking highway projects across the country. It had also allowed them to collect attorney's fees if successful. These fees were then used to fund additional anti-road litigation.
Beating back a proposed injunction to stop dozens of road projects in California, setting potential legal precedent for other similar cases across the nation.
Creating legal pressure that sped up a court settlement in Atlanta, Ga., allowing dozens of highway projects to move forward.
Setting legal precedent guaranteeing construction industry associations a legal right to a seat at the table in environmentally-based litigation seeking to stop regional, state or local transportation plans.