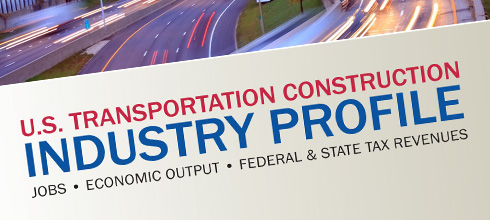 Studies & Analyses
ARTBA's other studies and analyses, available to members and the news media, provide regular updates on current market conditions, economic and policy reports and other key economic indicators.
seperator
State Gasoline Tax Report
The State Gasoline Tax Report provides an overview of which states have increased their state gas tax since 1997 as well as a list of current rates.
This report details the changes in state gas taxes between 1997 and February 2013.
seperator
U.S. Transportation Construction Industry Profile
A comprehensive 2012 report by ARTBA's economics and research team has quantified the enormous impacts of the transportation construction industry on the national and state economies. The study, "The U.S. Transportation Construction Industry Profile," shows that money invested in transportation construction industry employment and purchases generates $355 billion in U.S. economic activity.
seperator
Study on Coal Ash Use in Transportation
Fly ash is a byproduct of coal combustion for electricity generation. It is widely used as a supplementary cementitious material in the production of concrete. Fly ash concrete is a mixture of choice for many state and local transportation departments and transportation engineers because of its performance enhancing and cost-saving benefits. It has also been praised for its environmental benefits as a "green" building material-putting to use an energy production byproduct that reduces demand for carbon-intensive portland cement, requires less water in the setting process, and would otherwise wind up in a landfill. Despite its many documented advantages and widespread use, new proposed disposal regulations may limit or eliminate its availability. The ARTBA-TDF study was conducted to forecast the potential economic impacts of the loss of fly ash availability in just one U.S. construction market-transportation infrastructure.
seperator
Economic Stimulus
ARTBA has prepared a series of reports monitoring implementation of the economic stimulus law known as the American Recovery & Reinvestment Act.
seperator
Annual Industry Forecast
Find out what ARTBA's economists see in their crystal ball for the transportation construction industry. The ARTBA annual forecast is published each December and will provide you with a national overview of the highway, bridge and transportation construction markets for the coming year.