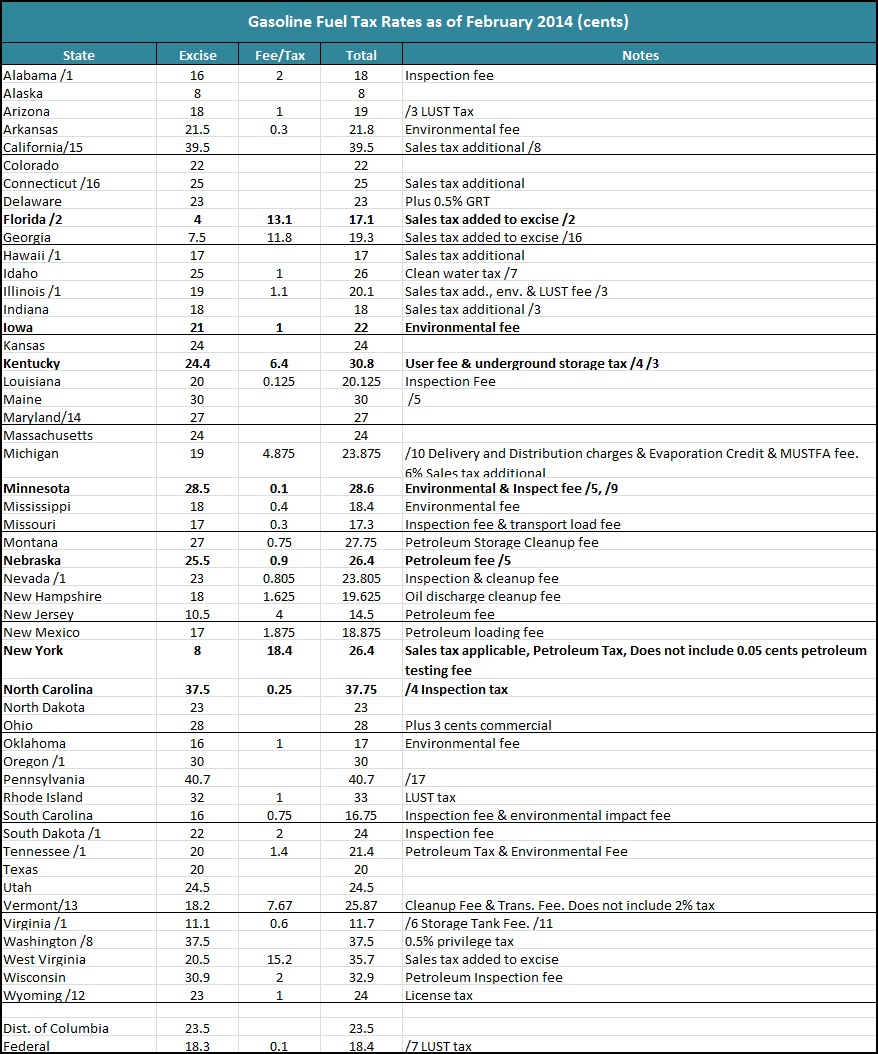 SOURCE
Federation of Tax Administrators
Federal Highway Administration States in bold have variable gas tax rates.
Tax rates do not include local option taxes. In AL, 1 – 3 cents; HI, 8.8 to 18.0 cent; IL, 5 cents in Chicago and 6 cents in Cook county (gasoline only); NV, 4.0 to 9.0 cents; OR, 1 to 3 cents; SD and TN, one cent; and VA 2%.
Local taxes for gasoline and gasohol vary from 12.6 cents to 18.6 cents. Plus a 2.2 cent per gallon pollution tax.
Carriers pay an additional surcharge equal to AZ-8 cents, IL-12.3 cents (g) 13.5 cents (d), IN-11 cents, KY-2% (g) 4.7% (d).
Tax rate is based on the average wholesale price and is adjusted quarterly. The actual rates are: KY, 9%; and NC, 17.5¢ + 7%.
Portion of the rate is adjustable based on maintenance costs, sales volume, cost of fuel to state government, or inflation.
Large trucks pay an additional 3.5 cents.
Tax rate is reduced by the percentage of ethanol used in blending (reported rate assumes the max. 10% ethanol).
California gasoline subject to 2.25% sales tax. Diesel tax rate will decrease to 13.6¢ and sales tax rate will increase to 9%.
Clean-up fee of 2 cents is only effective for four months out of every year. 
Delivery and Distribution charges total 4.5 cents per gallon. The 0.875 cents MUSTFA fee is a Michigan-specific environmental regulation fee for the refined    petroleum fund.
On Feb. 23, 2013 the Virginia Legislature approved an overhaul of the transportation funding system which replaces the gas tax with a 3.5% wholesale motor fuel tax, a 0.3% increase in the nonfood sales tax, and registration fee increase for hybrid, electric and alternative-fuel vehicles.
The Feb. 15 bill went into effect July 1, raising the gas tax by 10 cents.
Sales tax prepayment rates are not included above.
On April 29 Governor Peter Shumlin signed a bill that raised the gas tax by 5.9 cents, starting in July.
Maryland's gas tax increased on July 1st to 27.3 cents per gallon, up from 23.5.
California's gas tax increased 3.5 cents per gallon on July 1 after a vote by the state Board of Equalization
Connecticut's petroleum gross receipts tax, a percentage of the wholesale price of gasoline, increased July 1 to 8.1%.
On Jan. 1, Pennsylvania eliminated its fixed 12¢ per gallon gas tax and removed the cap on its Oil Company Franchise Tax. The oil company franchise tax rate is determined annually on a cents per gallon equivalent basis.