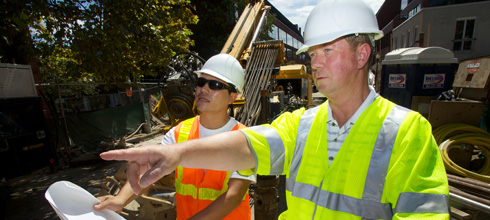 Safety
Since its founding in 1902, safety has been a core value in ARTBA's mission. The association's multifaceted approach is designed to improve safety for workers, pedestrians and motorists. As an industry leader, ARTBA works to build consensus and develop policy by bringing together national leaders to better understand the complex and intricate interaction of safety with all aspects of transportation planning, design, construction, maintenance and repair.
ARTBA's safety advocacy on behalf of its members extends from the halls of Congress, to the White House, and to federal agencies where rulemaking and standards-setting processes take place. ARTBA actions have resulted in successful efforts to ensure Congress supplies adequate, dedicated funds to improve safety during transportation construction operations.
On the regulatory front, ARTBA stays in close, regular contact with federal agencies, including the Occupational Safety and Health Administration, Federal Highway Administration, the National Institute for Occupational Safety and Health, the Environmental Protection Agency and many other agencies to make sure the industry's voice is heard so new standards and regulations support our members' interests, are easy to understand, and enable member companies remain competitive locally, nationally, and internationally.
Check out the Transportation Construction Safety Program Brochure!