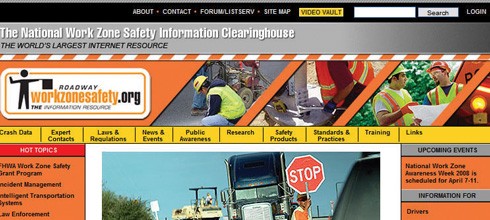 Work Zone Safety Clearinghouse
The National Work Zone Safety Information Clearinghouse (Clearinghouse) is owned and operated by the ARTBA-Transportation Development Foundation. Many of its functions are maintained through a contract with the Texas Transportation Institute and supported by the U.S. Federal Highway Administration.
The Clearinghouse is the world's largest online resource for road construction work zone safety information and contains searchable databases, including: safety experts nationwide, traffic crash and worker accident data, traffic laws and regulations, agency standards and best practices, training resources and publications, safety equipment and technology, and current and past research.
The Clearinghouse was originally established through a cooperative agreement with the Federal Highway Administration and ARTBA. Today, the Clearinghouse continues to serve a vital role, helping both the public and private sectors improve work zone safety. Today the Clearinghouse handles 200,000 information requests annually from all 50 states and countries around the globe.
Visit the Clearinghouse or call 1-888-447-5556 for more information.